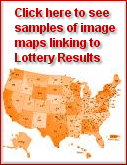 Lottery Links
Text Formats
---

LotteryFeed.com provides two TEXT data feed formats. Text formats are most suitable for the inclusion of lottery results in newsletters and email notifications. We will assign you an FTP account for 24X 7 access to our TEXT data feeds, which are updated concurrently with the data feed updates at LottoStrategies.com We can also send our TEXT data feeds to your server at the times you request.

TEXT Format A provides daily lottery results, paged state by state. Follow the links below to view samples of our TEXT Format A data feeds.



California | Florida | Maryland | New Jersey | Washington



TEXT Format B provides daily lottery results, for all states/provinces, on a single page. Click here to see a sample of TEXT Format B.





For further information and pricing for our lottery data feed service,
please contact us.