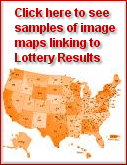 Lottery Links
Clients
---

LotteryFeed.com serves a variety of clients including web media portals, service providers, newspapers, TV/radio stations, other lottery sites and lottery software providers. Some of our existing clients include:




If you would like to contact any of our clients, in reference to our service, please feel free to let us know. We will gladly provide you with contact information for our existing client base.





For further information and pricing for our lottery data feed service,
please contact us.