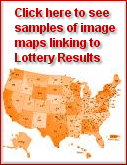 Lottery Links
About Us
---

LotteryFeed.com is owned and operated by CyberIntegration, LLC - A division of Gaming Solutions International. We also own and operate the following lottery information sites:

We are renowned for providing timely, accurate and reliable lottery data. Technological advances allow us to provide you with a state-of-the-art system of eliminating human errors inherent in traditional data entry systems. We pride ourselves on being first in the compilation and delivery of reliable data feeds to media outlets and other customers. We provide 24-hour data feed updates, capturing and recording results as they are drawn.

Our goal is to set the highest level of industry standards in producing timely and error-free data feeds. Our state-of-the-art system allows us to update data feeds within minutes of lottery drawings.

Our current data feeds will also provide you with access to enhanced lottery tools, such as, Numbers Archive, Past 30-Day Results, Frequency Chart, Smart Picks, Match Finder, etc. In an effort to exceed customer satisfaction, we will continue to develop more enhanced lottery tools that offer the types of data and statistics that our customers require.

LotteryFeed.com is a timely, accurate and reliable provider of lottery services. For further information, please feel free to contact us.





For further information and pricing for our lottery data feed service,
please contact us.